Overview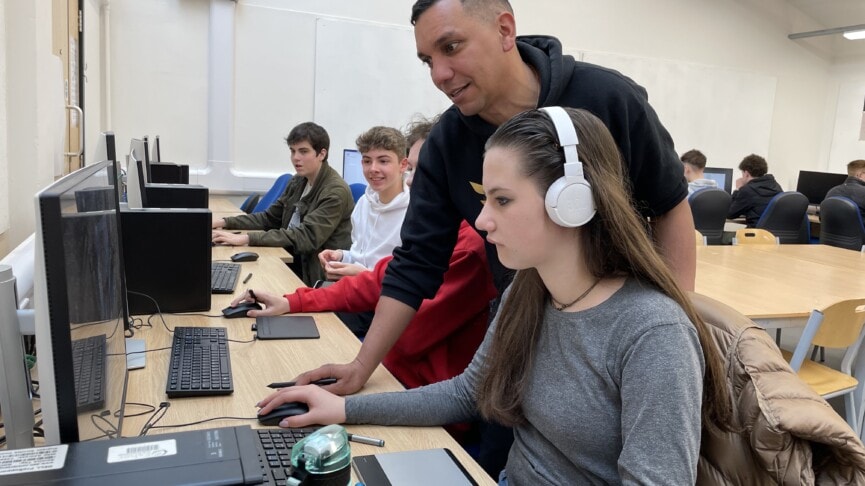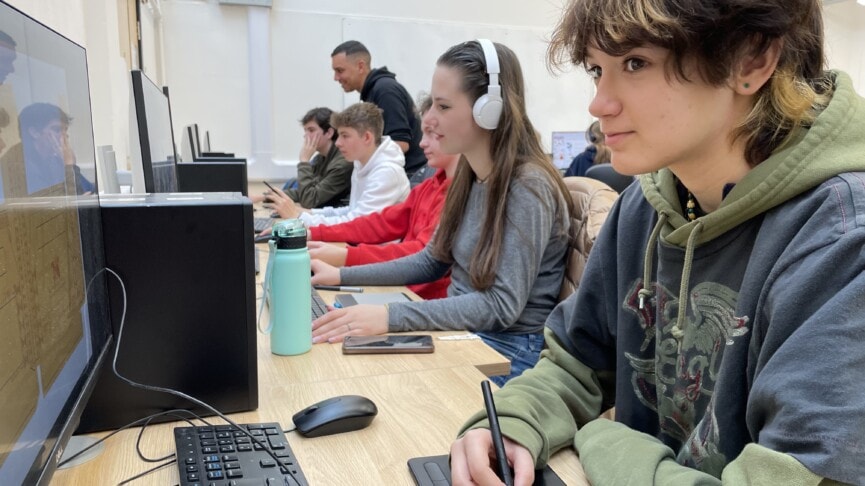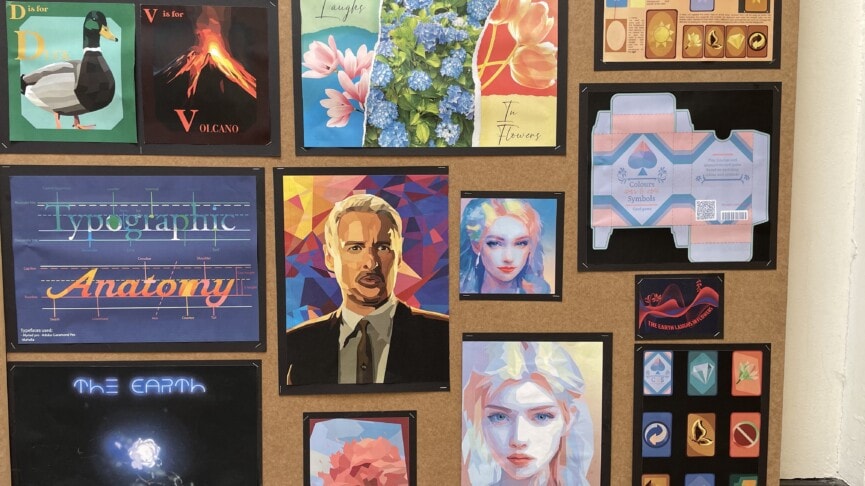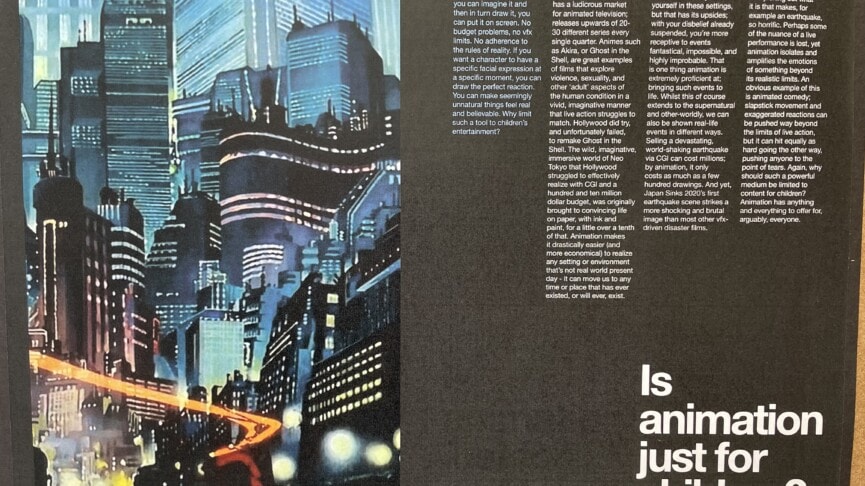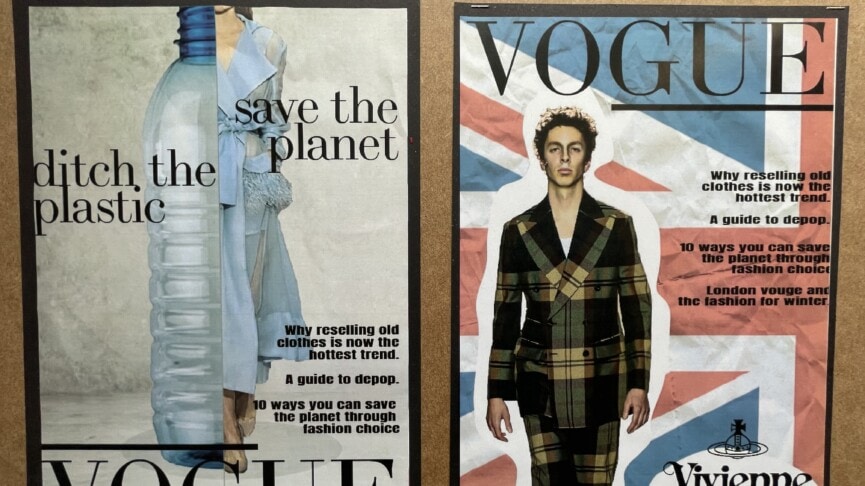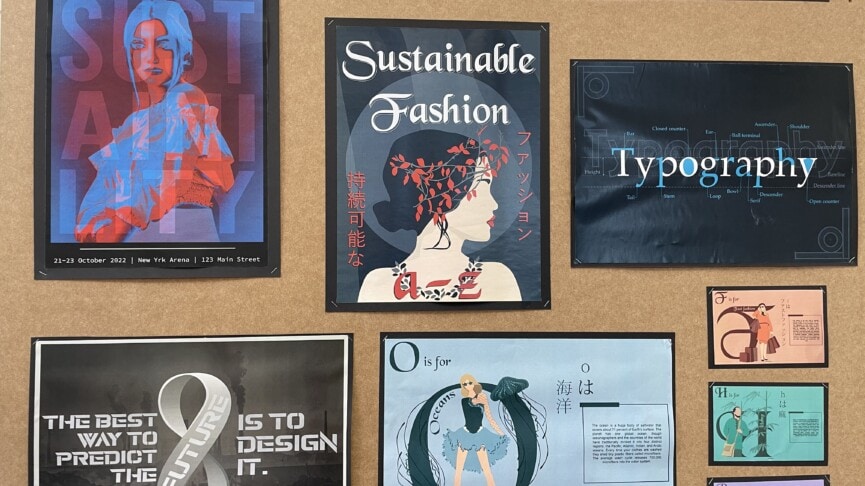 A Graphic Communication A Level is a great choice for students wanting to communicate their ideas through design. Using a wide range of 2D and 3D industry standard software, you will learn how visual communication can empower brands, change attitudes and shape the future.
Through a series of activities and short projects you will learn how to design, create and layout digital artwork that can be used in all areas of commercial production from advertising and packaging to animation and motion graphics.
At Esher, we have a wide range of industry standard software including InDesign for Digital Publishing and have access to the Adobe Creative Cloud so you can take your designs even further. Our students, for example are using everything from Adobe Dimensions to create AR immersive content to Adobe Animate, to turn sketches into animation.
Entry Requirements
In addition to the College's standard entry requirements, you will need to achieve a minimum of:
Grade 4 or above in GCSE Art & Design
And/or a Grade 4 in any Design and Technology related GCSE (Resistance Materials, Food, Graphic Products, Textiles).
Students who have not studied an art or design subject at GCSE can still achieve success on this course. You will need to talk to the Design department and complete some creative tasks which must be presented at enrolment. Acceptance on to the course will be at the discretion of the Head of Department.
Course Details
In your first year, you will develop your design skills including sketching, developing and how to record ideas using a variety of approaches and techniques.  You will become familiar with major design movements and the work of other designers in order to broaden your appreciation of good design. There is an emphasis on learning how and why designs are developed, and how you as a designer can make improvements.
You will also use CAD (Computer-Aided Design) software to generate ideas and CAM (Computer-Aided Manufacturing) software to manufacture the design ideas using the printers and laser cutters.
In your second year, you will take these skills forward to create a more detailed 'personal investigation project.'  Taking on the role of a professional designer, you will have the freedom to explore the areas of graphic design that interest you most. It could be anything from web design and architecture to product design and marketing.  At the end of the second year you will have created a design portfolio consisting of a mixture of set and self-generated projects, to demonstrate your interests and skills to universities and potential employers.
Assessment
Assessment is 100% coursework, in the form of a Personal Investigation. Your Personal Investigation consists of:
A design portfolio and practical outcomes. (40%)
A written Related Study (20%).
An Externally Set practical task (40%)
Projects are marked by the teachers and externally moderated by the examination board.
Subject Combinations
Graphic Communication A Level goes well with the majority of subjects, especially other creative subjects, and can lead you into a variety of directly related professions in Business, Travel and Tourism, Media and Psychology.
Interested in a Business or Marketing career? Graphics are an intricate part of how businesses communicate with their customers through advertising and branding as well as internally through reports. Graphic Communication inspires people to act – it can be emotive and persuasive, which is a marketeer's dream! Think about combining Graphic Communications with a Business A Level, Economics A Level or a Business BTEC course.
Interested in video game animation? Paired with an A Level in Computer Science, Graphic Communication is a great combination that lets you mix logic with the creative to show you can apply yourself to anything and can lead you to some interesting university courses.
Thinking about another creative A Level?  The Graphic Communication A Level can be combined with Fine Art, Photography, Media, Fashion or Art and Design BTEC. However, you should consider the workload of taking two coursework subjects, so you will need to have good organisational skills and manage your time accordingly.  Typically, 66% of our Graphic Communication students will go on to specialist arts degrees and foundation courses.
Thinking about Humanities or a Science related A Level? A Graphic Communication A Level provides a creative and practical dimension to a science or humanities study programme. For example, taken with a Psychology A Level, you can start exploring the power of how colour, typeface, shape and structure can affect how you subconsciously communicate to people.
University Destinations
Graphic Communication A Level is a highly respected qualification, with 90% of our students progressing onto university.
Here are some typical university destinations that our Graphic Communication A Level students go on to. Click on a destination to see some examples of courses they have taken;
Careers
Any field of design, but especially Graphic Design, Packaging Design, Advertising and Media.
FAQs
What skills will I need and develop on this course?
On this course you will develop investigative, analytical, experimental, practical, technical and expressive skills, aesthetic understanding, critical judgment and presentation skills. You will experience working with a broad range of media and develop an enthusiasm for art, craft and design.
What software programmes do you use?
All students will have access to industry standard software including Adobe Creative Cloud suite (Photoshop, Premiere, After Effects, Illustrator etc),  SOLIDWORKS (CAD/CAM) and Microsoft Visual Studio and InDesign.
Do you go on any trips?
Past trips include the Design Museum, London Transport Museum and the Museum of Brands.
Do I need to be able to draw?
There are all sorts of drawing involved, not just traditional drawing skills – but we will work with you to establish the best working methods for each student.
What's the difference between Graphic Communication, 3D Design and Art & Design BTEC?
Graphic Communication is a focused graphics course, which means that unlike the Art & Design BTEC course you will not do any fine art.
Most of the work will be computer based, unlike 3D Design which has much more emphasis in our practical workshop. However, you will use CAD/CAM software to create packaging.
3D Design focuses on product design, for example designing children's' toys, lighting products, domestic products as well as furniture design or architectural projects. On Graphic Communication,  the work is focussed on branding, logo design, package design, new corporate identity for organisations, motion graphics and animation.  Both courses are very different in terms of their outcomes, so you can do both courses together if you so wish.
What do our students say about the Graphic Communication A Level course?
"I chose graphics because I wanted to study an art form that was more commercially applied, and I was interested in design, more so than art. The course was really good at teaching the difference between these two concepts, and got me to think of my work in terms of its reception, and what purpose or function it may serve. The structure of the course was also helpful in instilling good design habits and the whole process of how to approach projects swiftly and efficiently became intuitive very fast. I chose to centre my final project around animated film and created an A-to-Z book and gif to fulfil that. After Esher I took an Art Foundation course and then I want to do an animation degree. I'm confident my Graphic Communication A-level gave me valuable design skills that I will take through the degree with me."  Aidan