Overview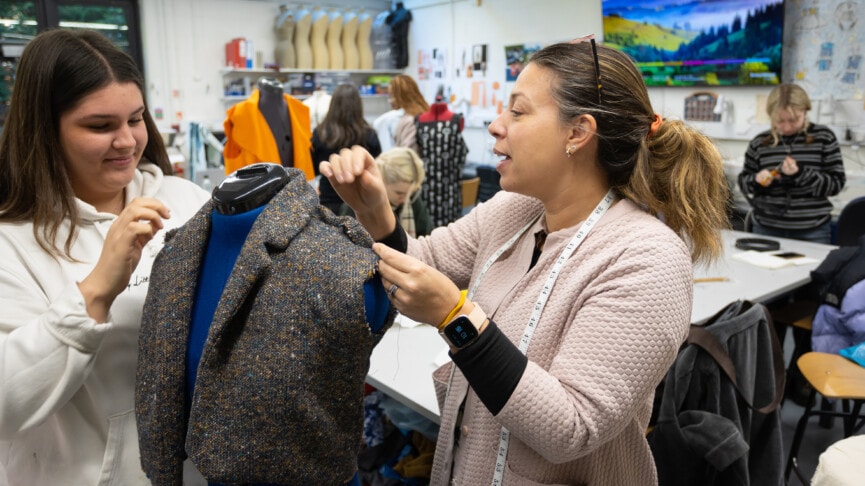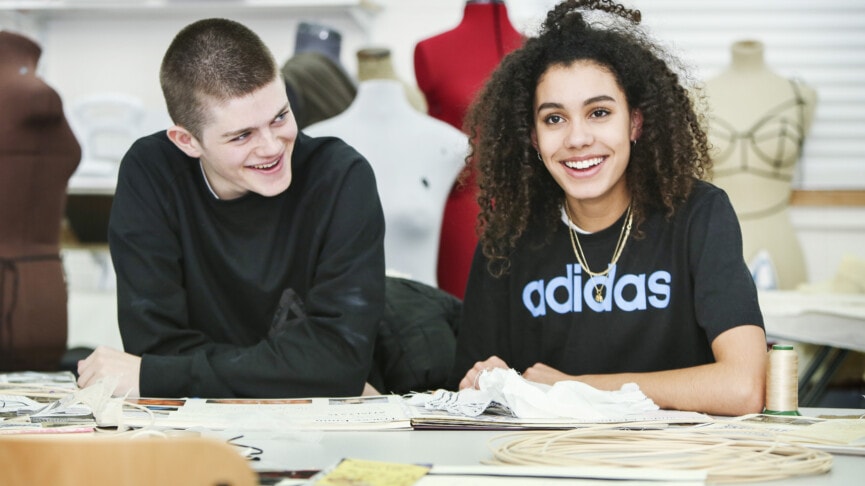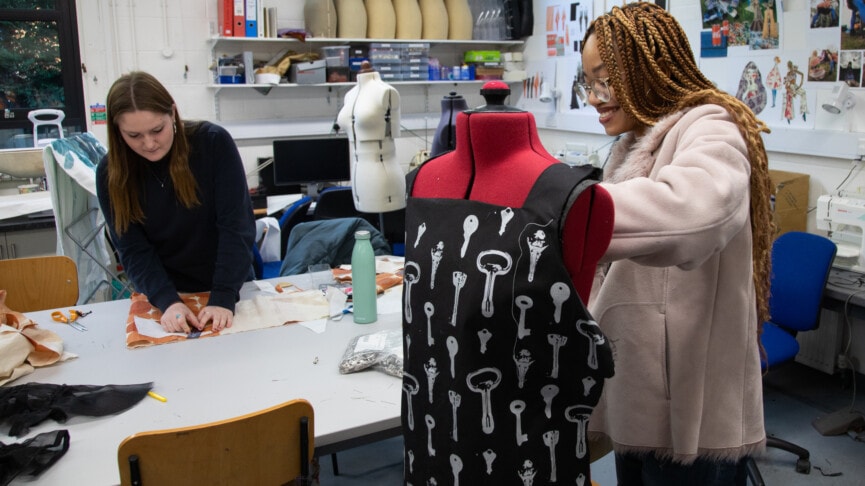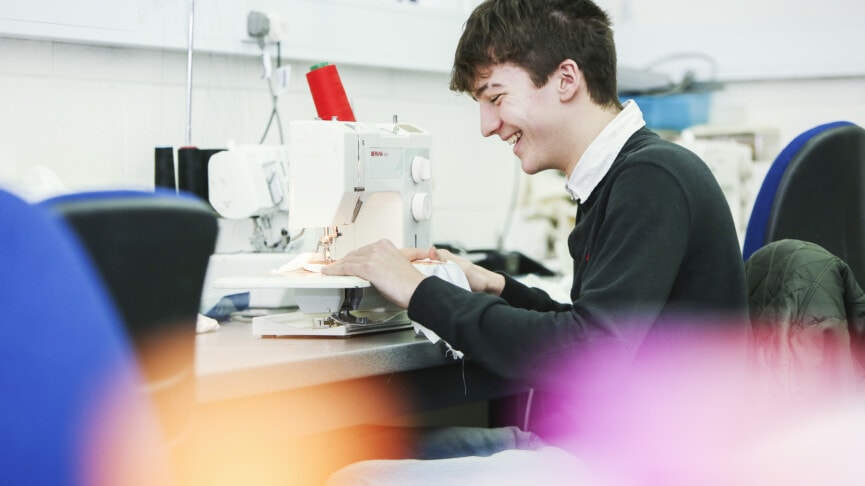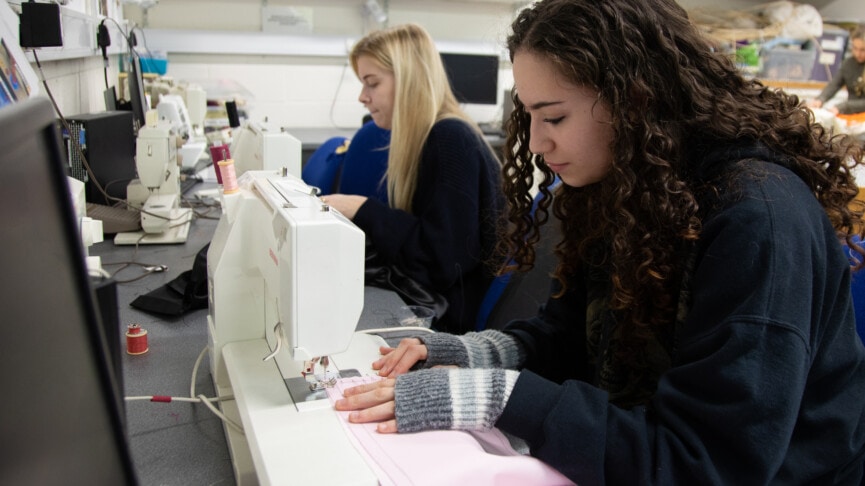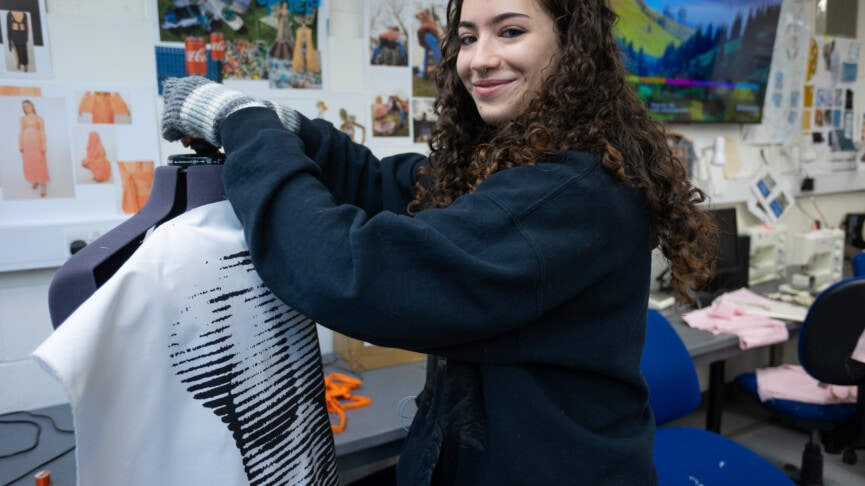 Creative industries are one of the biggest employers in the UK. The UK fashion industry is the largest employer of all creative industries and the UK is renowned for having the best fashion colleges in the world (British Fashion Council 2019). Fashion and Textiles is taught as a highly creative subject whilst developing awareness and skills in professional practice.
The course is designed to introduce you to the many different aspects of fashion and textiles. It is taught creatively against a background of contextual studies, historical developments in fashion, art and design movements and key figures within the fashion and textiles world. You will master design from concept to final product, learning through designing and making, using both traditional methods as well as new technologies. Awareness of developments and current trends in the fashion and associated industries is given a high profile.
Entry Requirements
Aside from the general entry criteria that the College requires, whilst it is preferable to have a GCSE in a creative subject such as Art, Design or Textiles, it is not essential.
Students with no previous qualifications in art or design, but with a genuine desire to study Fashion are advised to contact the Head of Department. You will be required to complete some creative tasks that you will present to the Head of Department at enrolment. Acceptance on the course will be at the discretion of the Head of Department.
Course Details
What will I study in the first year?
In the first year you develop design and technical skills, sketching and recording ideas, developing design ideas through exploring both materials and processes. You will discover how fabric and textiles can be used in both a decorative or functional way, producing your own individual designs.
Working in a sketchbook from first and second hand observation, you will develop your drawing and mark-making skills. You will learn a variety of techniques that can be used to produce a fashion textile including screen printing.
Technically you will learn to illustrate your ideas, develop skills in stand work and pattern drafting, as well as learning construction techniques, and how to make a toile. Studying contemporary and historical fashion will enhance your own design development.
What will I study in the second year?
In the second year you will have more freedom to explore and develop your own design work. You will submit one major project that has personal significance, building on, extending and developing skills learnt during the first year. Students produce individual outcomes, which may be a collection of garments or be focused on textile design for fashion. There will be a written element relating to this project in the form of a 'related study'.
In the second half of the year you will select one starting point from a range of themes set by the exam board to produce a portfolio of design work, with the final outcome being produced under controlled conditions. All second year work is submitted for teacher assessment and external moderation.
Assessment
Assessment is 60% coursework, in the form of a Personal Investigation which is presented as a design portfolio and practical outcome(s). There are also marks allocated to a written Related Study (20% of the coursework grade). In addition to the coursework there is an Externally Set practical which is worth 40% of the overall A Level mark. Projects are marked by the teachers and externally moderated by the examination board.
Subject Combinations
Fashion can be combined with any subject. If students are interested in following a career into the creative industries they sometimes combine with Fine Art, Photography, 3D Design, Graphic Communications or Art and Design BTEC. However, you should be aware that there will be continual coursework throughout the course, so you will need to manage your time accordingly.
Other popular combinations are English, Mathematics, Media and Business for those wishing to progress onto fashion journalism, styling, marketing, product development, communication or business. There are no restrictions with other choices.
University Destinations
Fashion and Textiles A Level is a highly respected qualification, with 90% of our students progressing onto university.
Here are some typical university destinations that our Fashion and Textile students go on to. Click on a destination to see some examples of courses they have taken;
Careers
The combination of Fashion with other creative subjects will give you a strong portfolio for applications to Art Foundation or Fashion related degrees. This course also combines well with Media, English and Business for those wishing to progress to fashion journalism, styling, marketing and product development or business.
FAQs
Will I be repeating myself if I do Fashion and Art and Design BTEC?
These two subjects complement each other well; there may be a cross-over with the subjects and skills, but you will not repeat yourself. Many students combine two or more practical and creative subjects at A Level to strengthen their portfolio application for an Art Foundation or degree application in the creative arts.
What extra support/enrichment activities are on offer?
In both years the department offers a range of visits to galleries and exhibitions to support portfolio work. We inform students of current exhibitions and encourage independent visits. There is a celebration of students' work with an end of year exhibition and catwalk show.
What skills will I need and develop on this course?
An art or design background is a helpful base to develop new skills. You will be encouraged to make independent visits to exhibitions, art galleries and museums and keep up-to-date with current fashion issues. You will develop your observational and analytical skills and acquire practical and technical skills to be transferred into creative work as appropriate to your intentions.