Esher College student wins art competition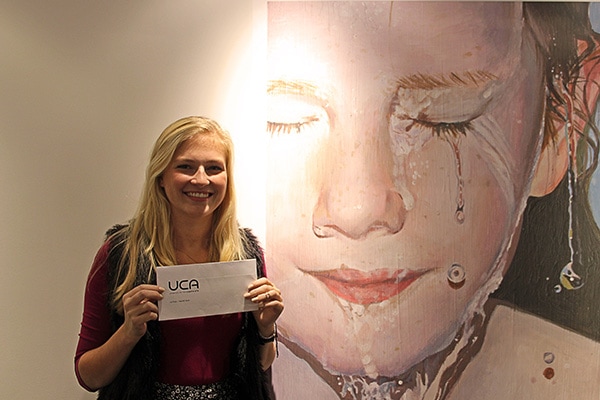 ​​A student from Esher College has been announced as the winner of the University for the Creative Arts' (UCA) Art on a Postcard competition for her photorealistic painting, Release.
Harriet Davie, 17, from Surbiton, fought off over 200 other entrants from all over the UK to claim the top prize of £600. She received her award at a special ceremony held at UCA Farnham's Linear Gallery.
"It feels amazing, I didn't expect to win, it's a great feeling!" said Harriet, who is currently in her final year of A levels.
Having learnt to paint when she was very young, Harriet was inspired to enter the competition after speaking to UCA at a Higher Education Fair at Esher College.
The painting, titled Release, was worked from a photo of Harriet's friend and shows water flowing over a young woman's face.
"There's an artist that I like who inspired me to paint with water because I think the effect looks really cool. I was looking at paintings that she'd done and was trying to get a similar effect with mine," said Harriet.
Harriet now hopes to use her prize money to take an inter-railing trip across Europe, taking in Budapest, Amsterdam, Venice and Croatia, before going on to study graphic design at university.
Handing out the awards at a beginning of a special three-day exhibition of the shortlisted entries, Ian Parker, Head of Fine Art at UCA Farnham said: "We have been very impressed by the high standard of the submission and it was a real pleasure looking though all the work, although very difficult to make the selection of the winners.
"We had over 200 entries from which we made a long list and then shortlisted down to 10. From this shortlist we then selected the 3 winners. 
The University for the Creative Arts has a long history of supporting young artists, producing a series of renowned alumni, including Tracey Emin, Humphrey Ocean and Arnold Schwartzman.
More news from the campus