Overview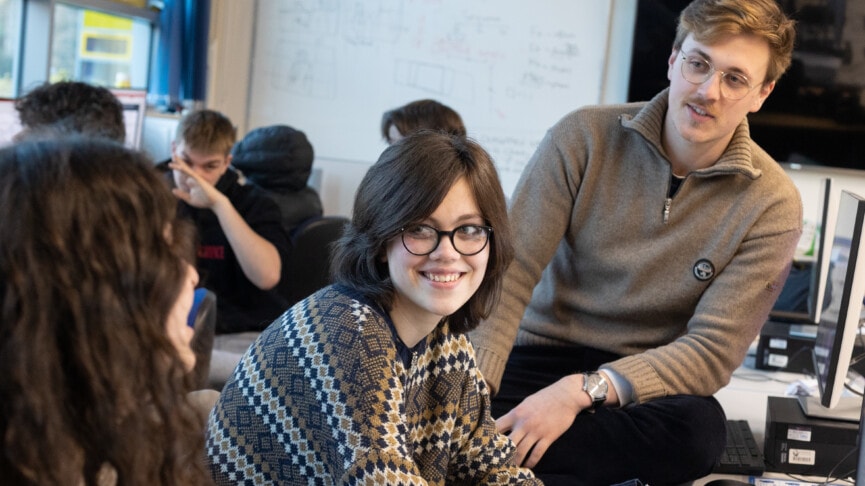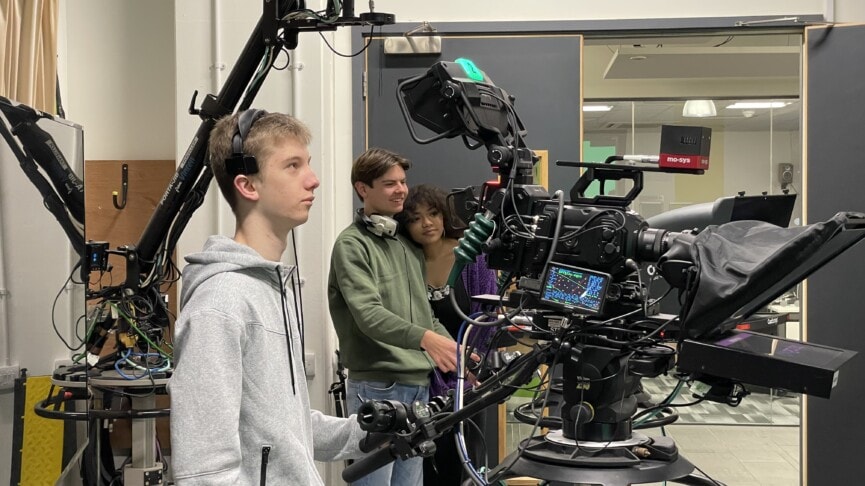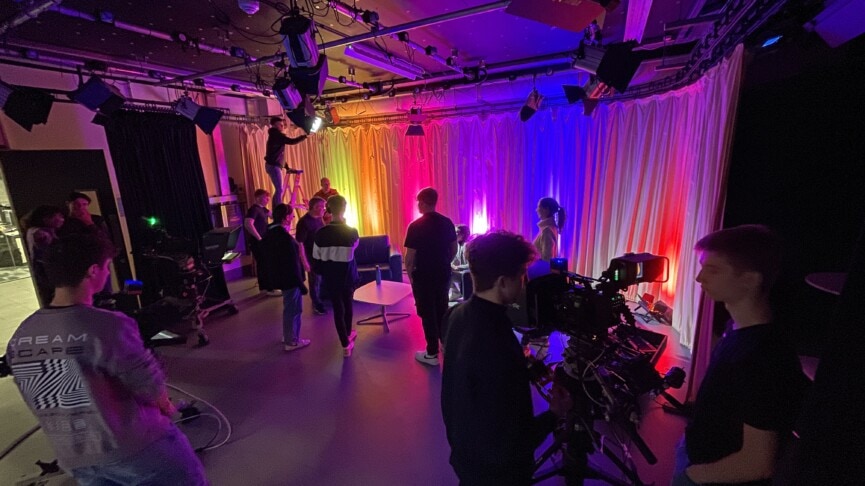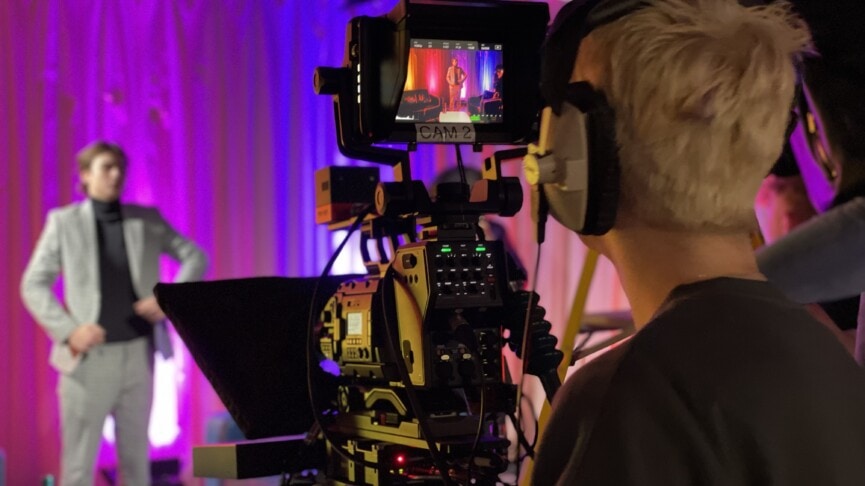 This is an exciting course for students who want to gain a practical understanding of digital film and video production.
It is a nationally recognised technical and vocational qualification,  designed to give the next generation of TV and filmmakers a thorough understanding of industry techniques, trends and practice. This is achieved through the continual assessment of practical work working towards set briefs.
The Digital Film and Video Production BTEC National Extended Certificate is the equivalent, in size and value, to one A Level and involves the completion of five units over two years.
Entry Requirements
Aside from the general entry requirements that the College requires, you need to achieve a minimum of:
Grade 4 in GCSE English Language
You will need to have a good level of creativity as there is a strong creative component, and an interest in using filmmaking technology and software. The ability to work independently to professional expectations, to be self-motivated and to meet deadlines is essential.
Course Details
The Extended Certificate course, equivalent to one A Level, has five units;
Unit 36 Lighting Techniques– Learners will undergo technical training on the use of specialist techniques and equipment. They will then work towards attaining a working understanding of how lighting works in media products, how to plan lighting set-ups and how to safely deploy lighting equipment. They will then produce a film scene in a 'classic noir' style to demonstrate their understanding of lighting techniques.
Unit 21 Film Editing- Learners will explore the development of continuity and discontinuity editing in film and television by analysing and evaluating historical and contemporary examples. Students will then experiment with various editing techniques before finally creating an opening of an original film scene which demonstrates continuity and discontinuity editing techniques to create meaning.
Unit 20 Single Camera Techniques -Learners develop and understanding of the differences between single camera and multicamera productions. They will explore various single camera productions such as documentary and music video across a range of genres. They will then work of the various stages of production of an original music video.
Unit 10 Film Production [Mandatory unit] -Students will work towards producing an original short film.
Unit 3 Digital Media Skills [Externally assessed exam]- This unit will test students' technical ability. They will need to produce a video based on a brief after which they will need to edit it and produce a log which documents their stages of production through to the final edit.
Assessment
The course is assessed throughout the two years by a number of coursework assignments, where students complete a series of tasks set in a work-related scenario. These coursework assignments are centre-assessed and then externally moderated by the exam board. Coursework assignments may include short reports, PowerPoints, presentations, portfolios and films. There is one externally assessed unit for the Extended Certificate.
For the externally assessed units you will demonstrate the skills you have developed through your coursework units to create a TV or film product responding to a brief, set by the examination board.
Subject Combinations
University Destinations
Digital Film and Video Production BTEC is a highly respected qualification, with 90% of our students progressing onto university.
Here are some typical university destinations that our Digital Film and Video Production BTEC students go on to. Click on a destination to see some examples of courses they have taken;
Careers
BTECs offer more practical, skills-based learning through coursework or themed units, and are excellent preparation for specialist degree courses. They are nationally recognised qualifications, and a credible alternative to A Levels. You can study A Levels and BTECs together, or choose to do all BTECs or all A Levels. With BTECs you get a grade for each unit – Pass, Merit, Distinction, and Distinction *.
Students on this course have progressed onto degree in media production-related subjects and have also been able to take short courses with the British Film Industry in short film production, documentary and animation.
This qualification also enables students to enter employment at a trainee /apprenticeship level, and the work-based learning component of the course equips them with relevant skills and experience to apply to workplaces. Possible stepping stones into future production careers might include Technician, Researcher, Runner or Production Assistant.
FAQs
What equipment does the Film and Media department have access to?
Our film department is equipped with the latest cameras, lighting, and audio equipment to ensure that students have access to the best resources for their studies.
Our camera equipment includes the Canon EOS C100, which is a powerful camera capable of producing stunning visuals in high resolution, a range of DSLRs and GoPro, which are perfect for filming short films, documentaries, and music videos. We also have a range of lenses to accompany the camera, allowing students to experiment with different shots and angles. In addition to our camera equipment, we have a range of lighting equipment including Amaran 100x, P60c, P60x and a range of LED panels and softboxes. These tools are essential for creating the right lighting conditions for a scene, and our students have the opportunity to learn how to use them effectively.
Our audio equipment includes the Zoom H6, which is a portable audio recorder that allows students to capture high-quality sound on location and we also have range of radio mics accompanied by Lav microphones which are perfect for recording dialogue, sound effects, and ambient noise. Our film department also has a range of accessories available for students to use, such as gimbals, tripods, stabilizers, sliders and boom poles. These tools are crucial for achieving stable shots and capturing high-quality audio.
Additionally, we offer training sessions and workshops to help students become proficient in using our equipment and to develop their skills in film production.
What extra support/enrichment activities are on offer?
The department has strong links with Southampton Solent University, University for the Creative Arts, and other educational providers. We regularly seek guidance on how best to advise our students about progression opportunities. We also offer support and enrichment workshops, invite in guest speakers and help students build more of a practical portfolio. At the end of the second year we celebrate student achievement with our own Esher Oscars. All students taking this course will have the opportunity to organise and undertake a work experience placement towards the end of their first year of study.