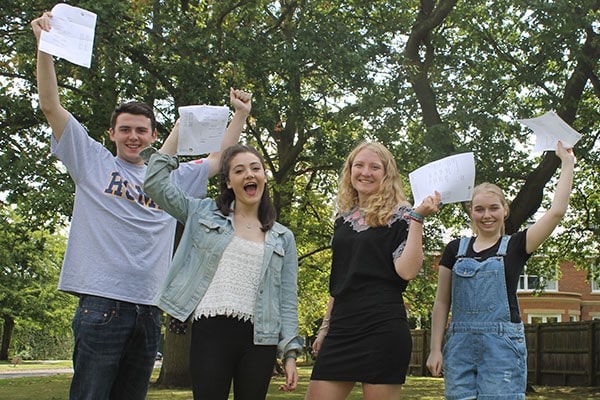 Esher College is pleased to report a 98.3% pass rate at A level (76.4% A* – C grades). The AS level pass rate is equally impressive at 92.3% (65.8% A – C grades).  All of the College´s results were above the national average. 
An impressive 111 students achieved three or more A Levels at A* or A grade, including eighteen students who achieved 3 or 4 A* grades; a remarkable achievement.  The College is also extremely proud to report that a total of 246 A* grades were awarded at A Level. 
Beth Jamal who achieved an A* in English Literature, and A grades in Government and Politics, and French, said, "I'm really happy with my grades, and grateful to Esher for all their support. I am really excited now about starting my course in October." She also achieved an A* for her Extended Project Qualification. Beth is off to Cambridge University to study Human, Social and Political Sciences. Coincidentally, another student Tilly Johnston-Jones, will also be joining Beth at Cambridge to study the same course. Tilly, who gained two A* grades in Government & Politics, and Philosophy, and an A grade in History, said, "I was so shocked and happy when I saw the grades. I couldn't have done it without the support of Esher and especially my teachers". Like Beth, Tilly also secured an A* in the Extended Project Qualification too. 
Olivia Cheriton gained an A* in Psychology, and two A grades in Maths and History. She is off to Oxford University to study Experimental Psychology. Olivia said, "I'm really delighted to have gained a place at Oxford and I'm really looking forward to starting such an interesting course."  Alex Hall, who gained two A grades in Chemistry and Physics, and a B grade in Maths, said, "I so happy with my grades and I couldn't have done it without the teaching staff at Esher. I'm very excited to have got a place at my first choice university and excited to be living and studying in London." Alex who also achieved an A* in his Extended Project Qualification, will be studying Chemistry at University College London. 
Dan Dean, the College Principal, said, "Our summer 2014 examination results are, once again, highly impressive. With over 5,500 entries at A and AS level and deliberately inclusive entry requirements we are justifiably proud of the achievements of our students. We are equally delighted with the outcomes on our BTEC courses. This level of performance is a testament to the dedication of our students and their teachers. As importantly, it provides students with a strong platform from which to progress to their next destination. Congratulations to all our students and best wishes for the future." 
More news from the campus