Natasha Mirghani
Former trainee teacher Natasha Mirghani, started her trainee teacher scheme in August 2015 and qualified in May 2017. Here she tells us why she applied for the scheme and what her experience was like.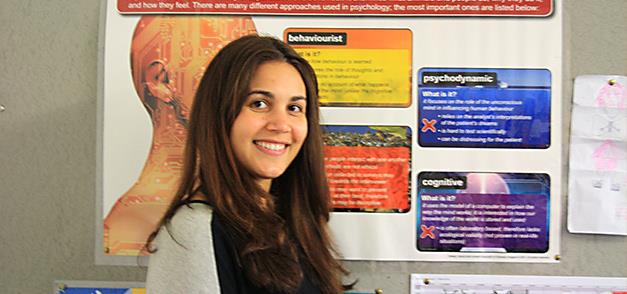 Name:
Natasha Mirghani
Education:
A levels include: Psychology, French and Spanish
Degree : BA (Hons) Psychology
Date that I started/com​​pleted the Trainee Teacher Scheme:
September 2015- May 2017​
Why I appli​​ed for the Trainee Teacher Scheme:
Having realised that I wanted to enter the teaching profession, I was thrilled to come across the Trainee Teacher Scheme at Esher Sixth Form College. I thought that the prospect of learning through actually teaching would be incredibly beneficial and provide me with the opportunity to nurture my skill set firsthand.
My experience of the Trai​nee Teacher Scheme:
The support I received and continue to do so at Esher Sixth Form College has truly been exceptional. In my first year at the college I taught eight lessons a week. This was across four first year Psychology classes, which I shared with other members of the department. Under their guidance I grew in confidence – working towards mastering the specification, creating lesson resources and managing the classroom environment. I also worked in the Learning Support Department, which provided me with the opportunity to work alongside other departments and students across the college. This role entailed giving one-to-one support to students and delivering study skills workshops. I feel that assuming different responsibilities within the college provided me with a diverse skillset that has truly helped to nurture the teacher that I am today. In the second year of the programme, I also began teaching Psychology to second year students and assumed further roles within the College such as a Duke of Edinburgh Supervisor.
I was very well supported by my tutors, mentors and peers on my PGCE course. My programme leader was extremely approachable, understanding and knowledgeable. I felt that I could ask questions at any time and overall, the course provided a wealth of opportunities that helped us all to build on our teaching. Throughout my time on the programme, I always received constructive feedback on written assignments and lesson observations. I also benefited very much from the one-to-one support sessions that were dedicated towards reflecting on our practice.
I remain grateful for the additional opportunities provided by the College, as they have enabled me to continually learn and grow in a professional capacity. Furthermore, they have provided me with incredible experiences, such as leading groups of students in their Gold Duke of Edinburgh expedition to Nepal. Overall, the scheme has been fantastic and an experience that I cherish.
What I en​joyed:
Developing both professionally and personally
Teaching in the classroom and supporting my students
Building an incredibly strong rapport with my colleagues
The Ch​​allenges:
I would say that the biggest challenge for me was managing the workload between studying for the PGCE and teaching
What I​​​'m doing now:
Now I am a qualified teacher, teaching A Level Psychology to both first and second year students. Experiencing some cross college responsibilities during my time at Esher has provided fantastic opportunities in terms of further supporting the students, liaising more with staff members across college and organising large-scale student events.  ​