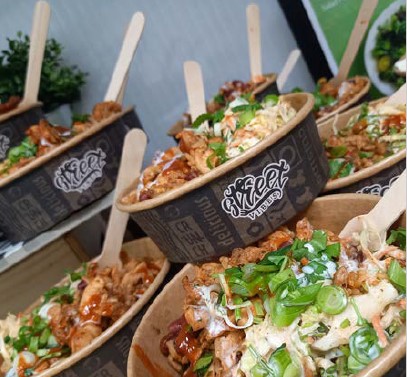 Feeling peckish? Our vibrant café area offers a range of exciting choices to satisfy those hunger pangs; from a salad bar bursting with homemade healthy salads to a huge selection of 'grab and go' items including baguettes, paninis, burritos, sweet treats and pastries. We offer an exciting variety of tasty main meals prepared fresh every day and our global street food range 'Street Vibes' tours the world – there is always something new to try; Korean chicken, Chinese bao buns and Greek souvlaki to name a few.
Our trained Allergy Champion (Cook/Manager) would be pleased to tell you what's in our food, the steps we take to avoid cross-contamination and help you with your choice.
We have two places to give into those Costa cravings. You can enjoy all your favourite Costa drinks and snacks at less than High Street prices.
Outside in the quad, near the Photography and Media department, is the Snack Shack; the perfect spot to recharge on your break time and enjoy the sunshine. The Snack Shack offers a range of drink and snack choices including coffee, sandwiches, confectionary and cold drinks.
Our cafés conveniently accept debit cards and Apple Pay, and you can download our catering app to get exclusive food offers straight to your phone.
Opening Times:
Costa Barista – 8:00am – 3:15pm
Costa Express – 10:00am – 2:00pm
Main Canteen – 10:00am – 2:00pm
Snack Shack – 10:00am – 1:30pm