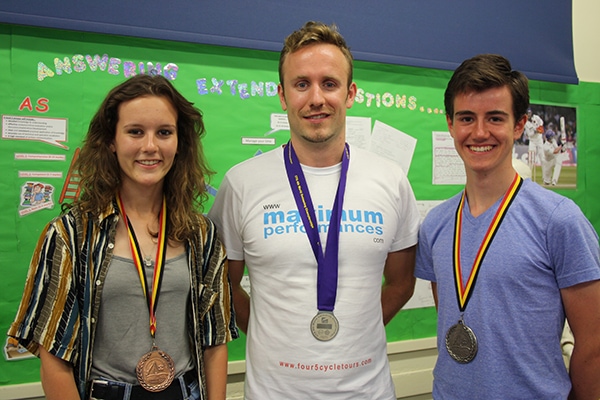 ​On 19 June Esher College hosted its third annual ROSE (Roll of Sporting Excellence) Day to celebrate the achievements of our top athletes and support them in their chosen sports.  Esher College has over 60 students who perform to an exceptionally high level in sport.  These talented students compete at county, national and even international level. The range of sports they excel at is truly impressive – from swimming basketball, rowing and hockey to more unusual sports and activities such as clay pigeon shooting and jump roping. 
The ROSE Day gave 18 of our top athletes a chance to meet one another and, this year, they were lucky enough to have double Olympian swimmer Ed Sinclair come to talk them about his experiences at the Athens and Bejing Olympics.  He talked to them honestly about his experiences and really engaged with the students.  One of the ROSE students Ella Widdop-Gray (pictured with Ed Sinclair) who is a high jumper, said "It has been such an interesting and informative day, and one that will highly influence my attitude to improving my sports performance"
Sports nutritionist, Libby Linford gave students advice on nutrition during training and competition. There were lots of samples to try from beetroot juice to chia seeds.   Sport psychologist Rebecca Symes gave a really interactive presentation on coping with injury and stress.  Catherine Tighe, PE Teacher at Esher College, said "It has been a brilliant day and a fantastic opportunity to not only recognise and celebrate the high calibre of athletes we have here at Esher College, but also a day where students have been inspired and guided by professionals in the world of sport." The students went away more motivated that ever and with lots of fantastic advice to help them prepare for a summer of competition.
More news from the campus