Annual College Production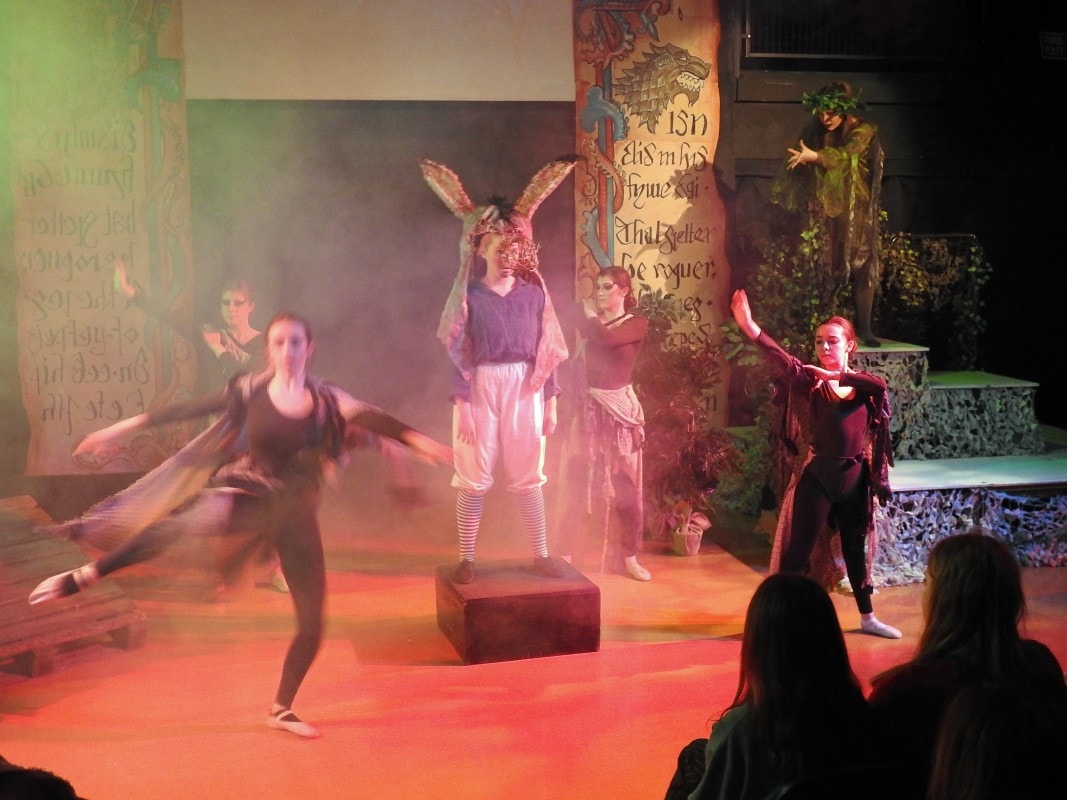 ​Over 30 students were involved in Esher College's latest production, a reinterpretation of Shakespeare's A Midsummer Night's Dream. The play, which had performances running over a three-night period from 17 to 19 January, had the potential to be a very disturbing tale without the inclusion of the comic mechanicals. The College Production team used the original text and explored the play's themes and plot to focus on the darker moments of the piece, inspired by the cinematic style of 'Game of Thrones', before finally returning to Shakespeare's original world where peace and harmony are restored—unlike the infamous book and TV series! Our talented cast of first year student singers and dancers performed an eclectic mix of musical numbers, specially arranged for the show.
Backdrops of mediaeval writing and costumes were created by the theatre technician, Malcolm Hart, whilst second year students led the production as assistant directors, choreographers and technical crew. Featured in the photograph above are, as Bottom, Megsy Knowles, an A Level Drama and Theatre Student, previously from Putney High School; as Puck, Cleona Leitch, a Performing Arts BTEC student previously from Esher Church of England High School.
 
Cleona said, "I really enjoy acting and singing and chose to do the College production because there was plenty of opportunity for both, which was perfect. I have been in many plays at primary and secondary school and it feels right for me to carry on doing what I love, which is performing. I really enjoyed being part of the College Production: it was fun, and it was challenging. I had never played a character with such a twisted mind before, but playing Puck was a challenge I rose to with enthusiasm, getting to grips with the psychology really well. It was also enjoyable working with such an amazing group of people. We all came together as a team to give a very well-known play the fresh performance it deserved. Working with this team created strong friendships along the way, and we were always able to have a laugh, too."
Megsy said, "Being in the College production was an amazing experience – it was great to be in a show simply for the enjoyment of performing, rather than working towards a grade in Drama and Theatre Studies. I also made great friends with students from different areas of the college, who I might not have met had I not been part of College production."
More news from the campus