Open Events
Our annual Open Evening, for students considering applying to the College in 2024, is on Monday 3 July 2023 between 4.30 – 8.00pm. Please see below for details on how to book.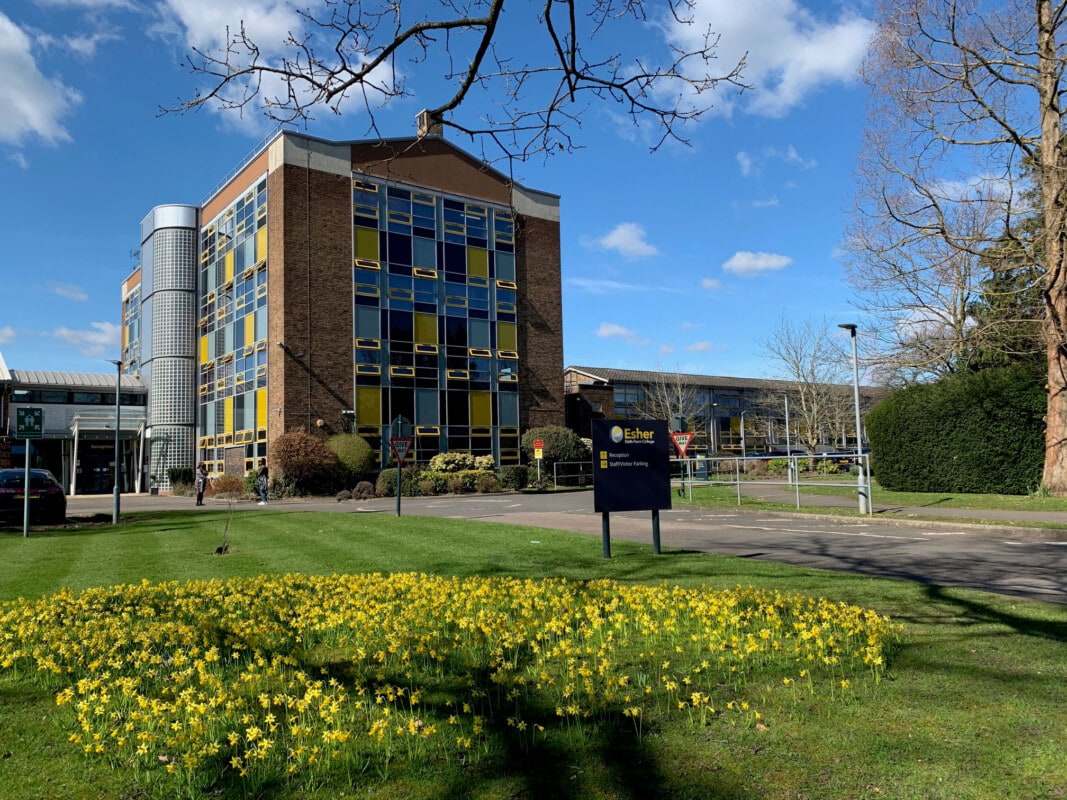 Open Evening Monday 3 July 2023, 4.30 – 8.00pm
We look forward to welcoming you to Esher Sixth Form College for our Open Evening, on Monday 3 July 2023 4.30-8.00pm. This event is for Year 10 students who are interested in joining the College in September 2024.  
Attending the Open Evening event is a great way to get a feel for the College and to visit our departments and speak to our students and teachers. Throughout the evening you will also have the option to attend our Principal's Talk and you can also find out about our student services by visiting our Learning Resource Centre. To book a place at the event please click here. 
We will have Student Ambassadors at each of the entry points to the College, handing out our 2024 prospectuses together with our Open Evening visitor guides. The guide contains a map which will help you identify the departments within the College that you would like to visit, together with a schedule of the talks and services on offer throughout the evening.   
Making The Most Of Your Visit
Here are our top tips on how to make the most of your visit: 
1. Visit the subjects you are most interested in first 
Every subject has opened up their teaching area for you to get a feel of the subject and the facilities available. With over 40 potential subjects to study we offer a lot of choice! 
 2. Read the course information on our website  
Our new website provides detailed course information on each of the subjects we offer including information on what you will be taught, how a subject is examined, where the subject could take you in the future and much more. Make sure you scan the QR codes on the posters in each of the departments to find out more. You can also visit the courses section of our website by clicking here. 
 3. Hear our Principal's talk 
There will be a 10-minute presentation by the Principal, Dan Hards, in the Sports Hall (Green Zone) at 5:00pm (for those on 4:30-6:00pm session), 5:45pm (for those on 5:00-6.30pm session), 6:15pm for those on 5:30-7:00pm session), 6:45pm (for those on 6:00-7:30 session) and 7:15pm (for those on 6:30-8:00pm session). There will be further opportunities throughout the 2024 application process to hear more from the Principal and Senior Leadership Team. 
 4. Speak to our Admissions Team 
The Admissions team will also be available in Learning Resource Centre 1 (Green Zone), to answer any questions you may have. 
 5. Talk to our students and staff 
We have Student Ambassadors around the College and many departments have student helpers for the evening. Ask them why they picked Esher Sixth Form College? What they like most/least about Esher? What a typical day is like at the College? They will also be able to give you more insight to the subjects they study and how they made their decisions. Our staff will also be able to answer your questions about the College and studying their specialist subjects. 
6. Visit the Learning Resource Centre 1 (Green Zone) to get information about our Student Services 
There is so much more to Esher Sixth Form College than just the subjects we offer, so come to the Learning Resource Centre 1 (Green Zone) to find out more about what we offer for our extensive Extension Studies options, our Excellence@Esher programme, our Personal Development Programme (run during tutor time), how we support the Health and Wellbeing of our students and Student Finance. Here you will also find our Progression Guidance Team, who can offer help on which course to choose. 
College Address
Esher Sixth Form College
Weston Green Road
​Thames Ditton
KT7 0JB​ 
Telephone: 020 8398 0291
Email: info@esher.ac.uk 
Travel and Parking
We will have parking on-site but as Open Evening is a busy night for us, it can sometimes get congested. Please note, the main College car park is accessed from the Weston Green Road entrance not via the back entrance on Weston Green. If you are using Sat Nav – please be aware that the College postcode (KT7 0JB) takes you to the back of the College (on Weston Green) and you will not be able to enter the car park via this route. 
Visitors are encouraged to travel by public transport where possible. We are less than a five-minute walk from Thames Ditton railway station and a 15-minute walk from Esher railway station.  
 

College Tours

If you are unable to attend our Open Evening in July, you can book onto one of our College Tours once you have applied and been offered a place in October. You can do this via your online applicants account. Please login and click Book College Tour to select a day.

College Tours are for applicants who have been offered a place to study at Esher Sixth Form College in September 2024.  Tours will take place at 9am during College hours and last approximately 40 minutes. They will run throughout the autumn and spring term.